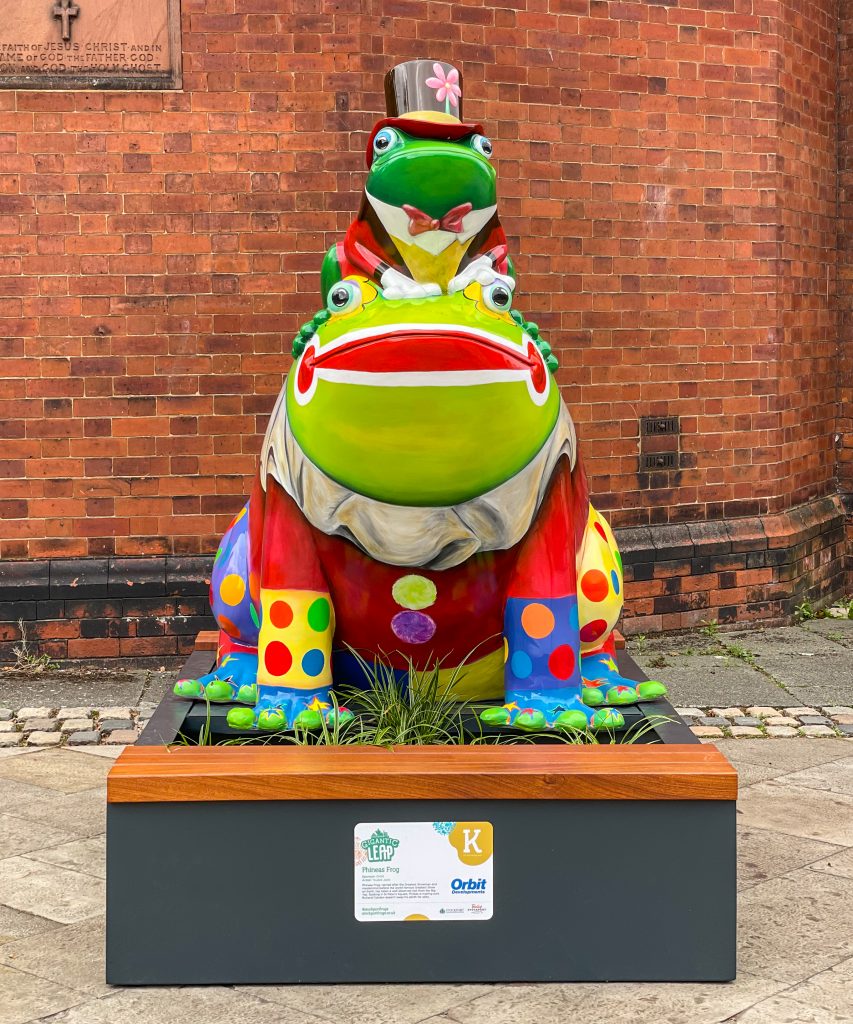 Remember the Stockport frogs?
How could anyone forget the vibrantly coloured amphibian friends brightening up the town – well they're back!
In 2019, Europlanters were proud to be involved in the manufacturing of the GRP frogs for Stockport's Giant Leap Frog Art Trail. The trail was a huge success, attracting thousands of new visitors, residents, and families of all ages to the town centre. It was fantastic to see so many excited children (and big children) seeking out all 19 giant frogs on the trail, later to be joined by 3 visiting frogs.
As Stockport continues to take gigantic steps to create a town centre for everyone to enjoy,  Europlanters based in Stockport, are yet again delighted to be participating.  Once again Totally Stockport set John Wilkes, Director of Europlanters a new challenge only this time it was to create a frog mould bigger and better than last time and to manufacture even more of them. This time each frog was designed to sit on a planter with intergrated benches to provide a place to rest along the trail.
John enlisted the help of talented sculptor Pete Garrett who created a brilliant sculpture of the froglet to go on top of the giant frogs and also the rock. Then he created the mini froglet too!
This summer's Gigantic Leap Frog Art Trail includes 21 brand new gigantic frogs hopping into the town centre.
The first 21 giant frogs, all painted by local artists, are part of the "Art Trail". 
The Art trail was launched at Red Rock in the town centre on 23rd August and all 21 frogs on the trail will stay in the town centre until September 26, 2021, before hopping off for auction in October.
And not only that, 17 of their giant frog buddies will be hopping to various locations across the whole borough making 38 giant frogs in total!
The 17 'One Stockport' Giant Frog sculptures are helping to advertise the art trail, and celebrate each area's uniqueness, reminding us of how we are all part of a united community.
Each One Stockport frog is unique and has been inspired by local people to represent their area and brought to life by local artists from Arc (Arts for Recovery in the Community) a leading arts and mental health charitable organisation based in Stockport Town Centre.
Along with the giant frogs Europlanters created 10 smaller frogs to sit on large GRP rocks for local schools and business to get involved in the build up to the art trail.
Supporting the art trail are sponsors Amstone, Carecall, Floreeda, Girlguiding Stockport, Holiday Inn Express, Marketing Stockport, Merseyway, musicMagpie, Nexperia, Orbit Developments, Robinsons Brewery, Simon Charles Auctioneers, St Ann's Hospice, Stockport County FC, Totally Stockport and the Vernon Building Society.
All proceeds from the giant frog auction are being donated to St Ann's Hospice which is celebrating its 50th anniversary this year. 
Over 50 mini frogs on a rock were made and given to the local artists and sponsors, taking the total to over 100 frogs hopping around Stockport this summer!
You can also enter the competition for a chance to win your very own 'frog on a rock'.
For further information contact info@totallystockport.co.uk.