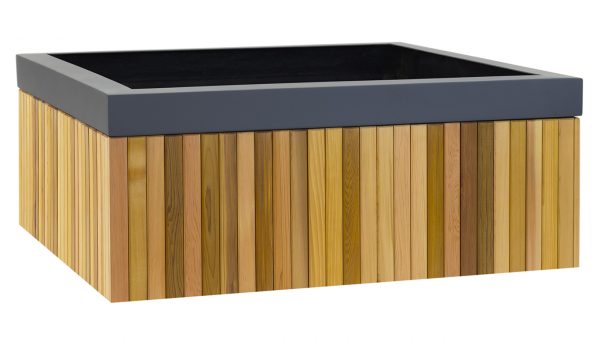 The Windsor Planter is a contemporary timber planter range with a fusion of GRP and timber to create a modern twist on a traditional style.
The Windsor Planter is a stunning planter made from Glass Reinforced Plastic (GRP)  which is then clad in hardwood. Choose from a wide variety of hardwoods.  
The choice of hardwood timber includes Sapele, Iroko, Cumaru and  Western Red Cedar. Other timbers can be sourced.
Each planter is handmade to order once the timber has been specified.
The Windsor Planter can be made in a variety of sizes and is a great piece of street furniture or perfect for the larger garden. 
The Mayfair planter is made at 600 mm cubed and 1200 mm / 600 mm /600 mm high  as standard but can also be made in a variety of other sizes if requested.
Heights of the  planter are 600 mm high with a large chunky rim in GRP at the top. The top of the planter can be made in any RAL colour.
The hardwood for the planter can be oiled, stained or lacquered. We would recommend oil for exterior planters and fire retardant lacquer for interior projects.
Available as a trough or a cube this range will work perfect with both small and large projects.
Windsor Planters at Cheshire Oaks...