Our Design & Technical Drawing Services
At Europlanters, we take immense pride in our commitment to delivering unique, artistic, and character-driven planter and street furniture designs. Here's an overview of our design and technical drawing services:
Collaboration with Architects
We collaborate closely with architects to provide a diverse range of innovative system drawings. These drawings serve as the foundation for visionary products that stand out in any environment.
Uniquely Artistic Designs
Every planter and piece of street furniture we create is a masterpiece in its own right. We believe in infusing each design with artistic flair and a distinctive character.
Complete Bespoke Service
Europlanters offers a fully bespoke service that includes both design and drawing services. We tailor our offerings to your precise requirements, ensuring your vision is brought to life.
Diverse Styles and Techniques
Recognizing that every project is unique, we bring forth a multitude of styles and techniques in our drawings. From modern to classic, we're adept at delivering designs that align with your aesthetic preferences.
Professional Technical Expertise
Our team comprises professionals with a wealth of technical expertise. We combine artistic creativity with structural soundness, ensuring that your designs are not only beautiful but also practical and feasible.
Attention to Detail and Creativity
Our unique approach underscores an unwavering commitment to detail and creativity. We meticulously craft every aspect of the design to showcase exceptional attention to detail and innovation.
Client-Centric Support
Europlanters places the utmost importance on client satisfaction. Our service is designed to keep you connected and engaged throughout the entire design and drawing process, from inception to completion.
Project Visualization
We provide you with the tools to visualize your project's journey from concept to realization. Witness your ideas take shape and flourish into tangible, extraordinary planter and street furniture designs.
Transforming Imagination into Reality
Our mission at Europlanters is to turn your imaginative concepts into tangible reality. We are genuinely passionate about bringing your creative ideas to life in the form of beautiful, functional, and unique designs.
Commitment to Excellence
Europlanters is dedicated to delivering results that go beyond your expectations. Contact us today to initiate a conversation about your project, and let us guide you in creating exceptional planter and street furniture designs.
Discover the Europlanters difference. We're here to make your vision a reality. Reach out to us today, and together, we can craft extraordinary planter and street furniture designs that will captivate and inspire.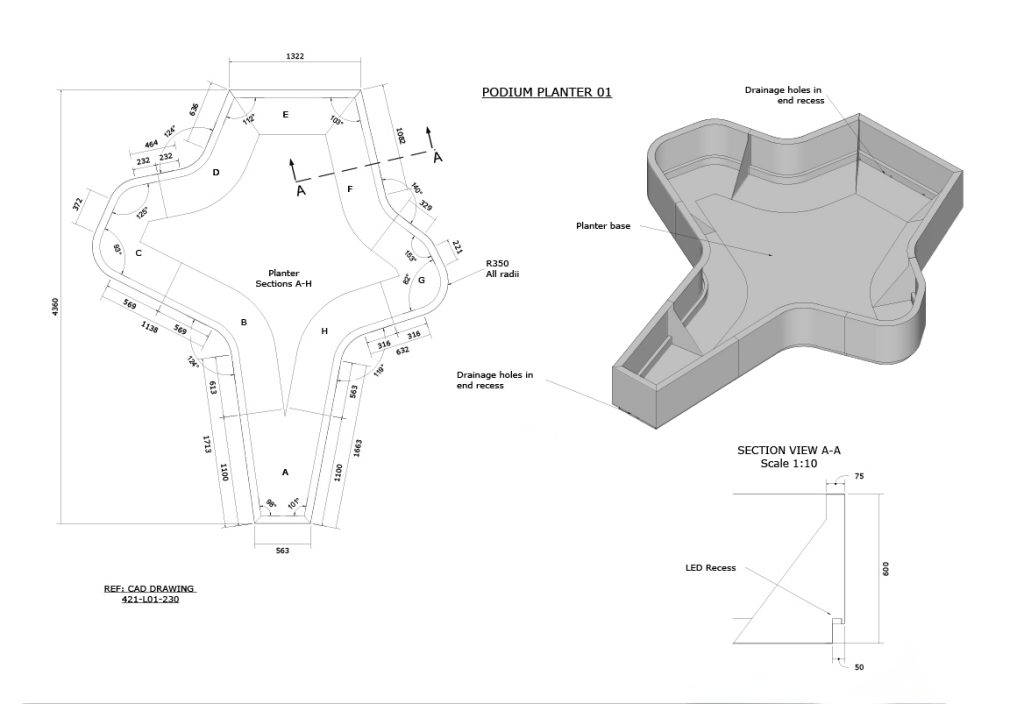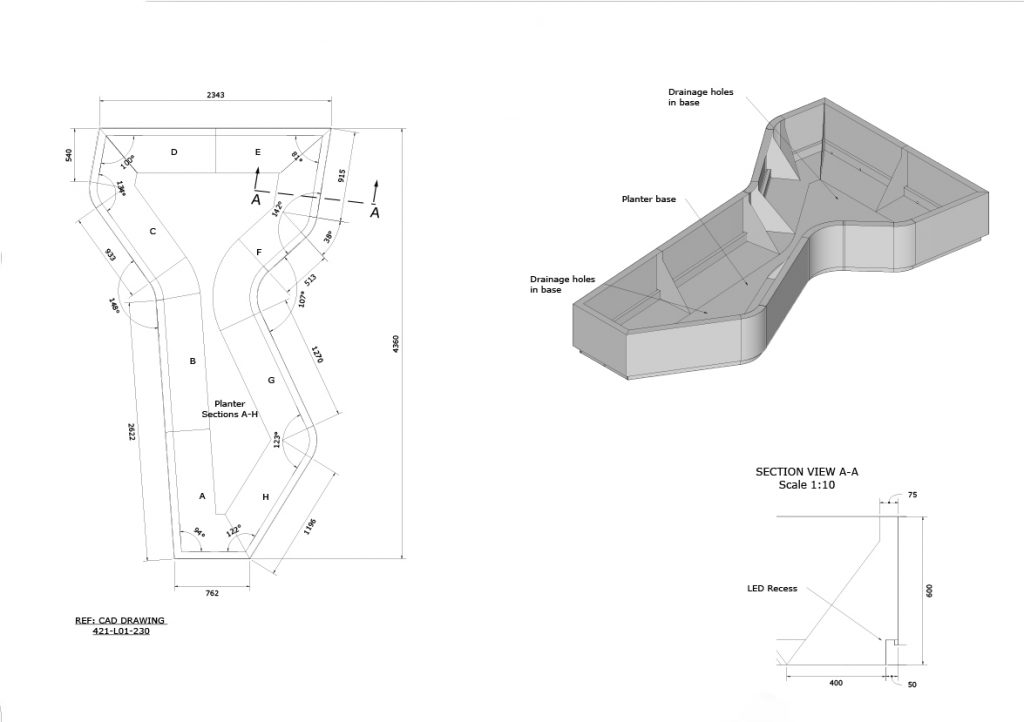 Working with the architects we created a large planting bed made from several modules with an organic shape that linked with others while incorporating recesses for LED rope lights for a unique and creative project.
Initial Concept and Sketching:
We began with a concept for the organic shape of the planting bed modules and created a cohesive design showing the desired placement of the LED rope lights.
Modular Design:
The large planting bed was divided into smaller, manageable modules. Each module bolted together to create a seamless organic shape when assembled with the others.
Technical Drawings:
We created detailed technical drawings for each module, including dimensions, shapes, and the location of LED recesses. These drawings served as a blueprint for manufacturing.
This project required careful planning, design, and attention to detail to achieve the desired organic shape and the integration of LED rope lights. Collaborating with landscape architects, lighting designers, and skilled craftsmen helped bring this unique and artistic concept to life.
We created an organic shape with a wooden pattern and molding for this project. This involved a hands-on approach that yielded unique and artistic results.
Design and Conceptualization:
Liaising with the architects, we started with a clear concept of the organic shape we wanted to achieve for the project and created a sketch of the design to determine the angles and curves required.
We then created a technical drawing for the wooden pattern that was eventually created into a mould. 
Using a wooden pattern and mold modification is a hands-on and artisanal approach that allows for a high degree of customization and artistic expression in creating organic shapes for various design and architectural applications.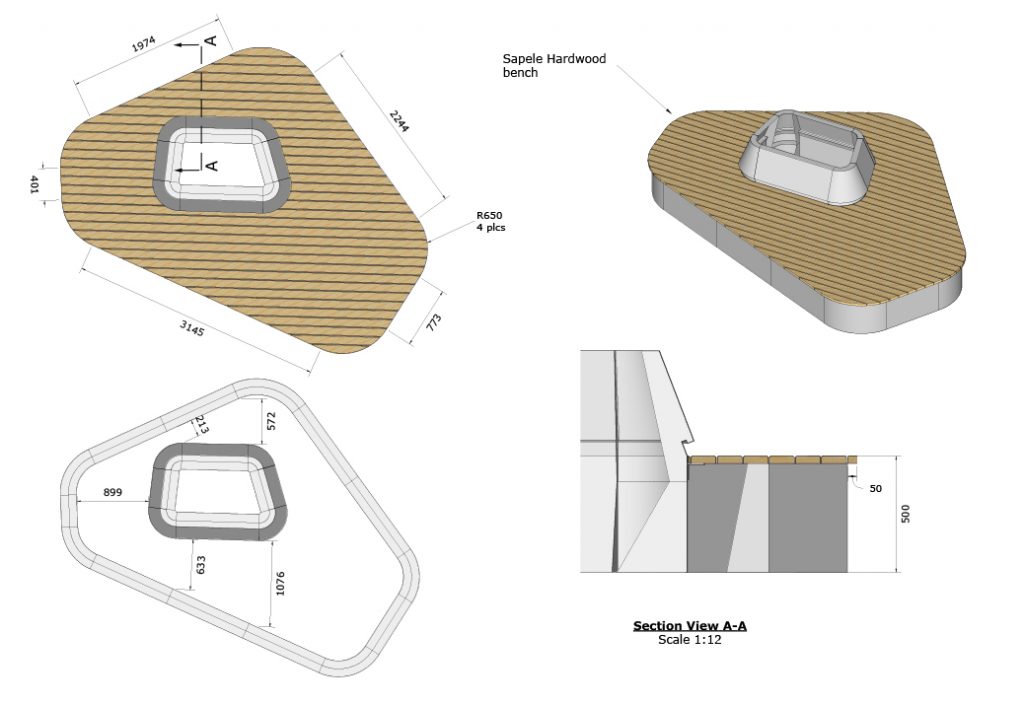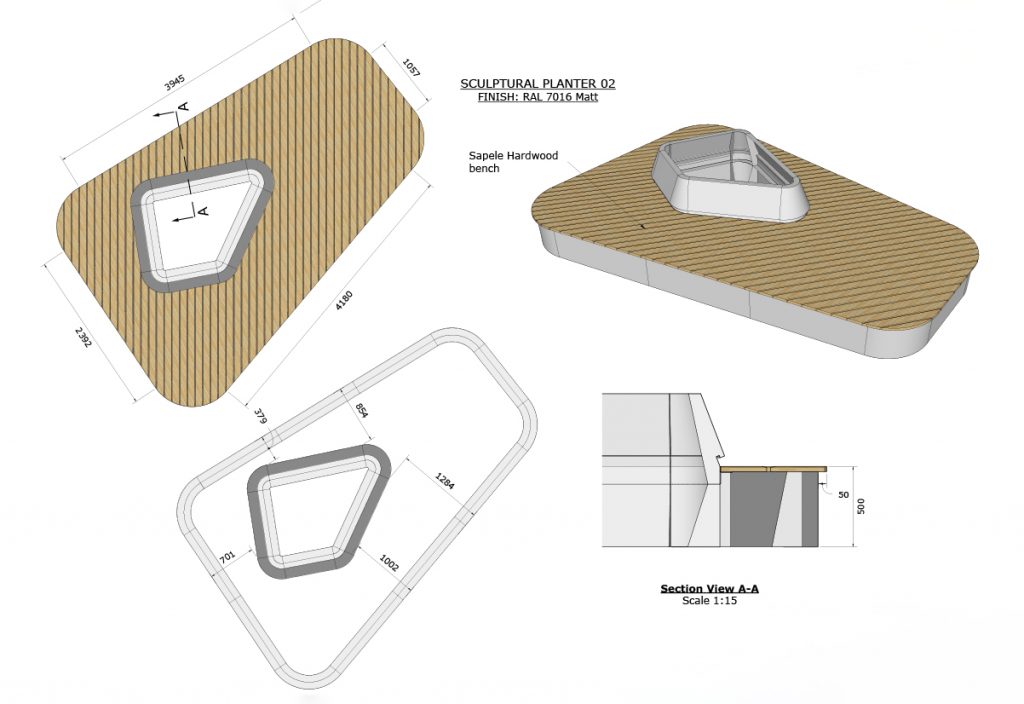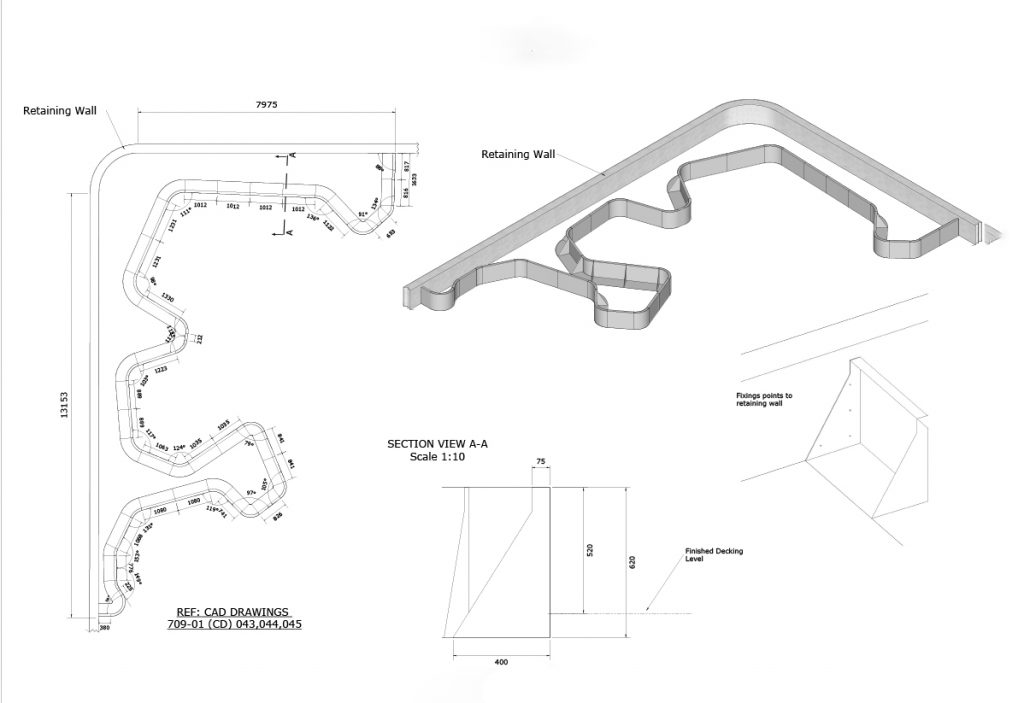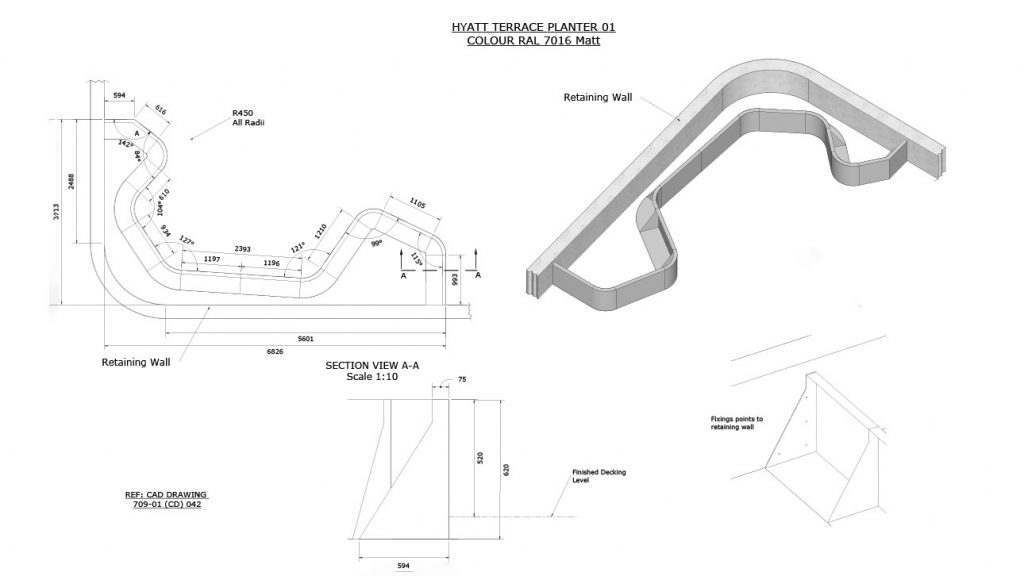 For this project we created a GRP (Glass Reinforced Plastic) planting bed with multiple modules that incorporated an existing wall within a sunken patio.
Site Assessment:
We began by conducting a thorough site assessment, including measurements, the condition of the existing wall, and the layout of the sunken patio. This helped us understand the space and its limitations.
We then worked closely  with the architects to develop a design concept that integrated the planting bed seamlessly with the existing wall and the overall sunken patio design. The aesthetic, functionality, and any specific requirements were also considered.
Modular Design:
We divided the planting bed into several modular units that could be manufactured separately. These modules fitted together harmoniously to create the desired shape.
This project involved careful planning, precise manufacturing, and skilful installation to create a visually striking and functional GRP planting bed that complemented the sunken patio and the existing wall. Collaboration with experienced designers and craftsmen is essential to achieve the desired results.
Working closely with the architects we designed a raised planting bed to fit precisely around the dome of a building creating a barrier to prevent people from climbing. This was a unique and security-conscious project.
Site Assessment:
We began with a thorough site assessment, taking into consideration the shape and size of the building's dome, the surrounding area, and any specific security requirements. A template was taken to work from.
Security Requirements:
We clearly defined the security objectives, including the height and design of the barrier to prevent climbing.
Design Concept:
The  design concept integrated the raised planting bed with the building's dome while achieving the desired security goals. We considered aesthetics, functionality, and the ability to incorporate the required barrier features.
Precise Measurements:
A site visit was required to take extensive measurements where we calculated the exact radius needed for the raised planting bed to fit around the dome accurately. Ensure that the measurements were precise to achieve a snug fit.
Radius Verification:
We then carefully verified that the calculated radius matches the actual dimensions of the building's dome before installation.
Designing a raised planting bed as a security measure around a building's dome requires meticulous planning and execution to achieve both security objectives and aesthetic appeal. We collaborated with security experts, architects, and skilled craftsmen to ensure the success of the project.