Stainless Steel Cube Planters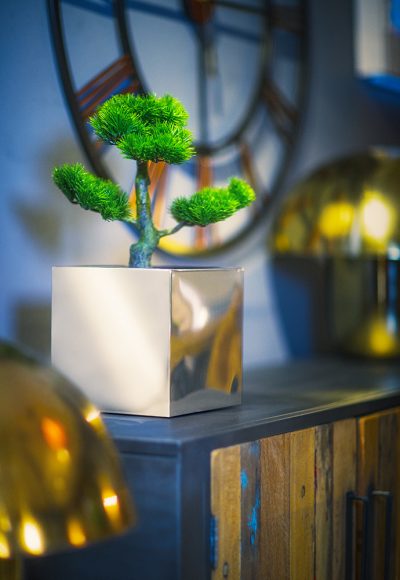 The Stainless Steel Cube Planter is equal on all sides and looks beautiful in any indoor or outdoor situation.
The Stainless Steel Cube Planter also has a return lip on the top which gives it a high quality look and feel.
This Stainless Steel cube planter is made from a high grade stainless steel and to ensure that soil will not corrode the planter from the inside, it has been sealed and lined.
The Stainless Steel Cube Planter is a classic shape that is perfect for plants and looks equally stunning with floral displays. They are also a perfect way to smarten up an entrance.
The Stainless Steel Cube Planter is a simple attractive way to brighten up your space.
Why not mix up the shapes and pair with our cylinders, tall squares, troughs and tapered squares.
The Stainless Steel cube planters are made in India and are made to a very high standard from 304 grade brushed stainless steel.
There are a variety of standard sizes in our imported range. Bespoke sizes can be made however, bespoke sizes are made in the UK from British steel and are often a higher price.
Please note that these planters are not suitable for being placed near a source of salt water. (i.e. sea air). Please ask us to quote for marine grade stainless if required.