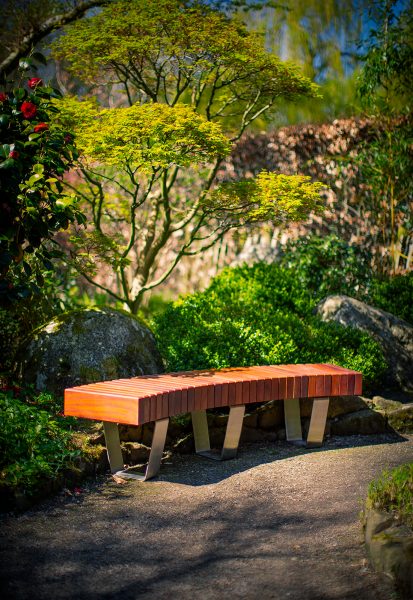 The Curved BENCH6 is made from hardwood timber, some with sturdy boxed metal legs which can be powder coated in any RAL colour.
There are a few variations of the curved BENCH6, each come in a standard length however bespoke lengths can be made (see images below). The seat height is 450mm as standard but again this can easily be altered.
The chunky timber seating on BENCH11 shows timber can be added to the curved trough which can be fitted to the full or half length of the curved planter. This gives a place for planting as well as a place to sit! As a single unit the curved bench is perfect for small gardens yet as a group it works equally well in a communal area.
BENCH12 has tapered stainless steel legs and can be used as a stand alone bench or can be made to fit the internal or external curve of the curved trough planter. This gives a secluded place to sit with the added benefits of plants.
BENCH21 is a circular bench with I-beam legs. It has an internal diameter of 1200mm and an outer diameter of 2300 mm and is 450mm high. Each timber piece is tapered and 500 mm long.
BENCH6
BENCH11
BENCH12
BENCH21
THESE ARE  EXAMPLE SIZES, OTHER SIZES ARE AVAILABLE
2000 mm
1500 mm
1500 mm
2300 mm
430 mm
450 mm
450 mm
2300 mm