Located just two miles from the centre of Cambridge in the thriving new university district of Eddington, is the sustainable Hyatt Centric Hotel, Turing Locke.
This facility provides 150 rooms, plus 180 Locke apart-hotel rooms, arranged around a central courtyard garden, named after computer scientist Alan Turing.
The four-storey building includes a restaurant, bar, café, co-working spaces and a gym. The grounds of the hotel accommodate a large courtyard, podium terraces and under-croft spaces.
The apart-hotel has been designed by Sterling Prize winning architects dRMM, and its interiors, including one and two-bedroom suites up to 74m2, have been created by design studio AvroKO.
The landscaping was designed by Robert Myers Associates and beautifully landscaped by Frosts Landscape Construction.
Europlanters were proud to have been commissioned by Gilbert-Ash to manufacture and install numerous planters and planter benches, including four large sculptural planters with a huge surround of timber seating outside the hotel on Turing Way.
This was designed to help segregate pedestrians from cyclists. The sizes ranged from 3x4m2 to 5x6m2, each one being carefully constructed in the factory to ensure they fitted together perfectly on site.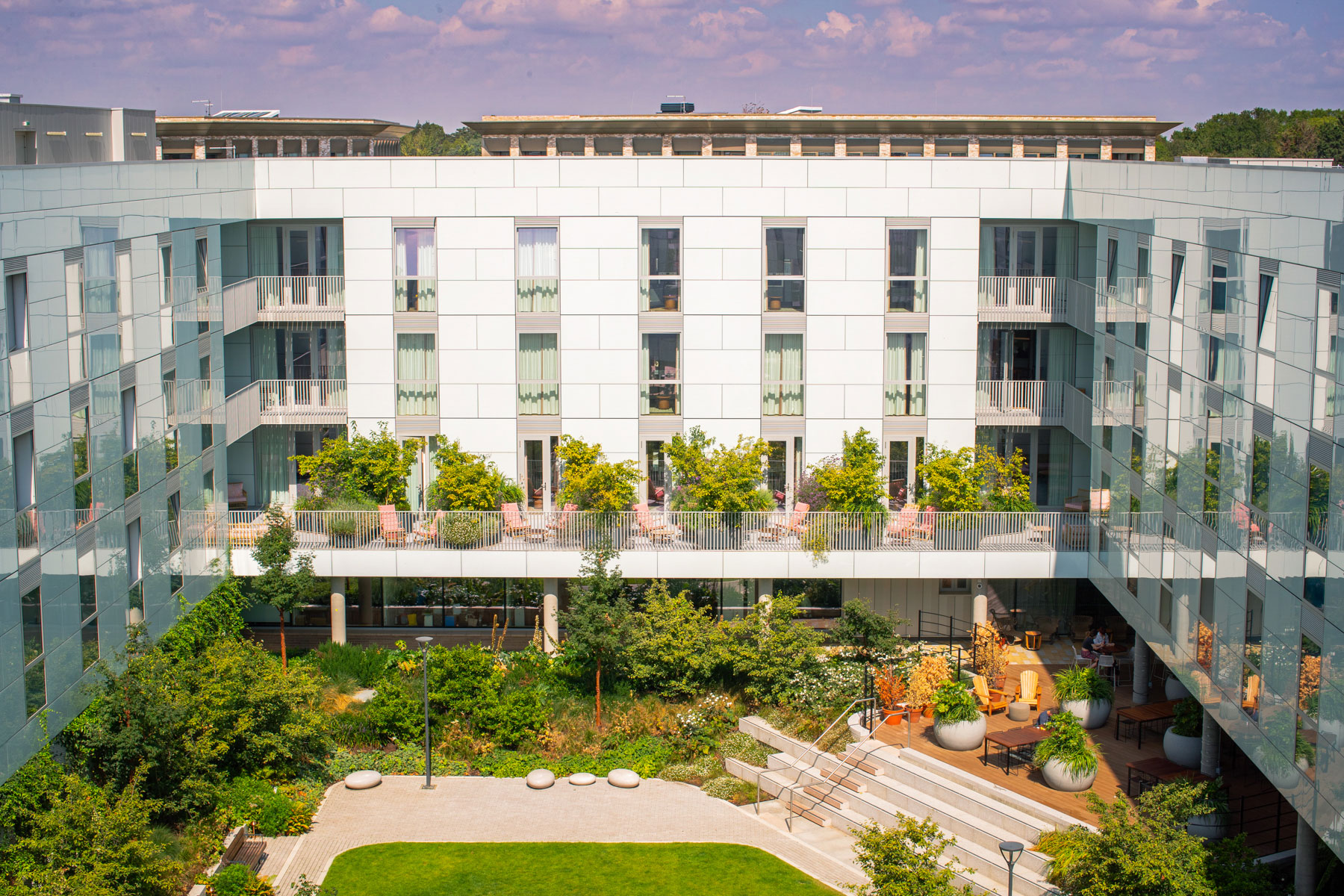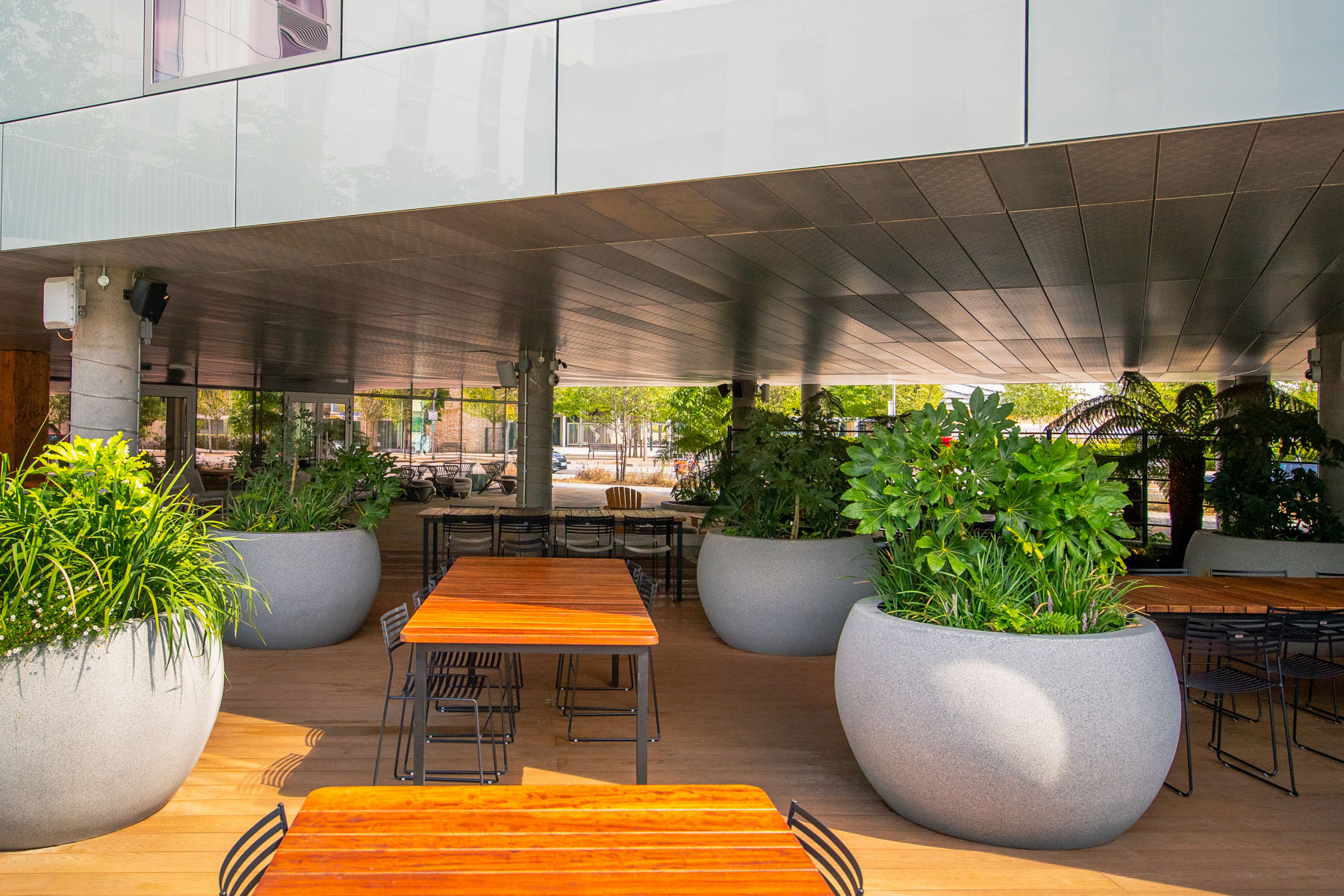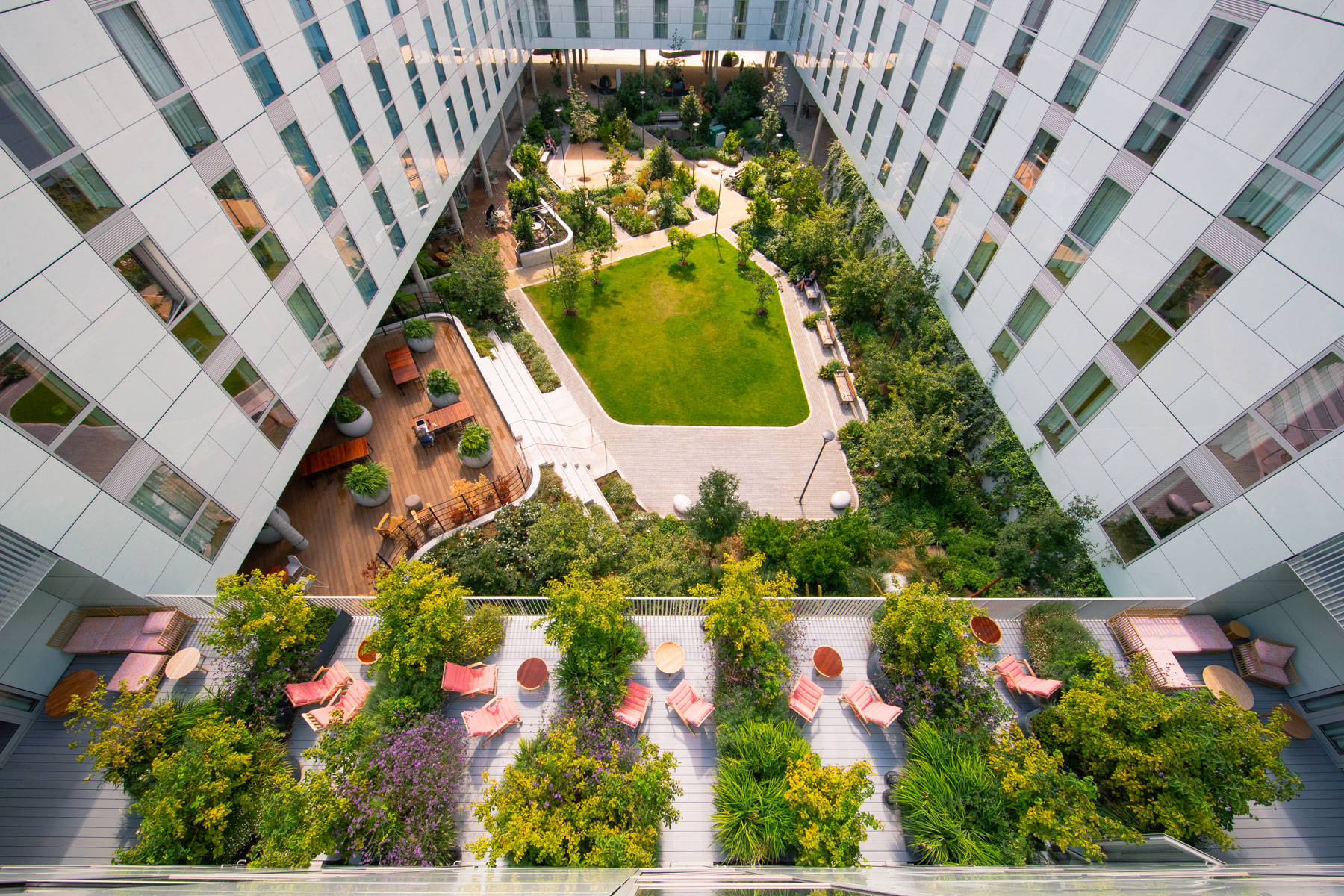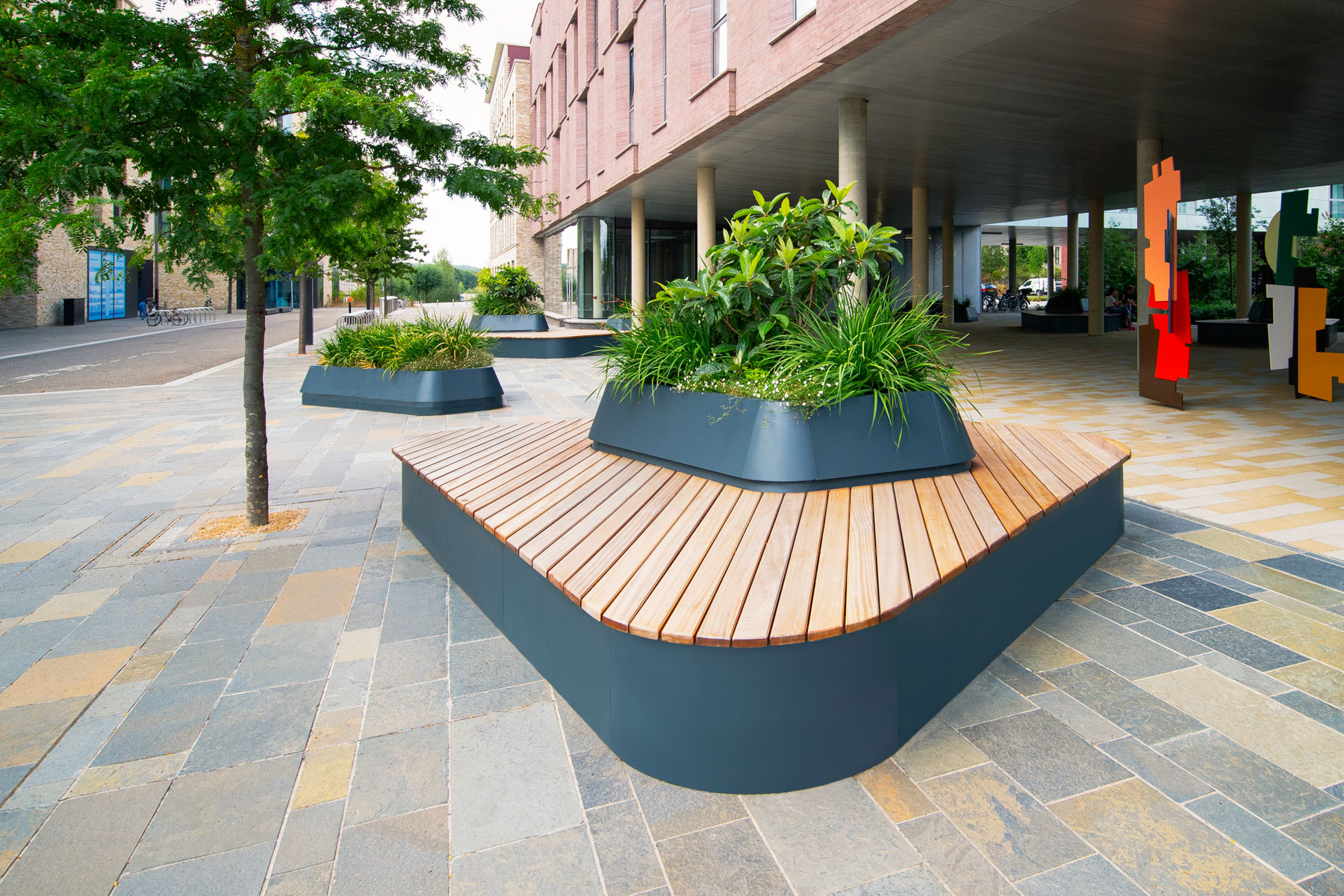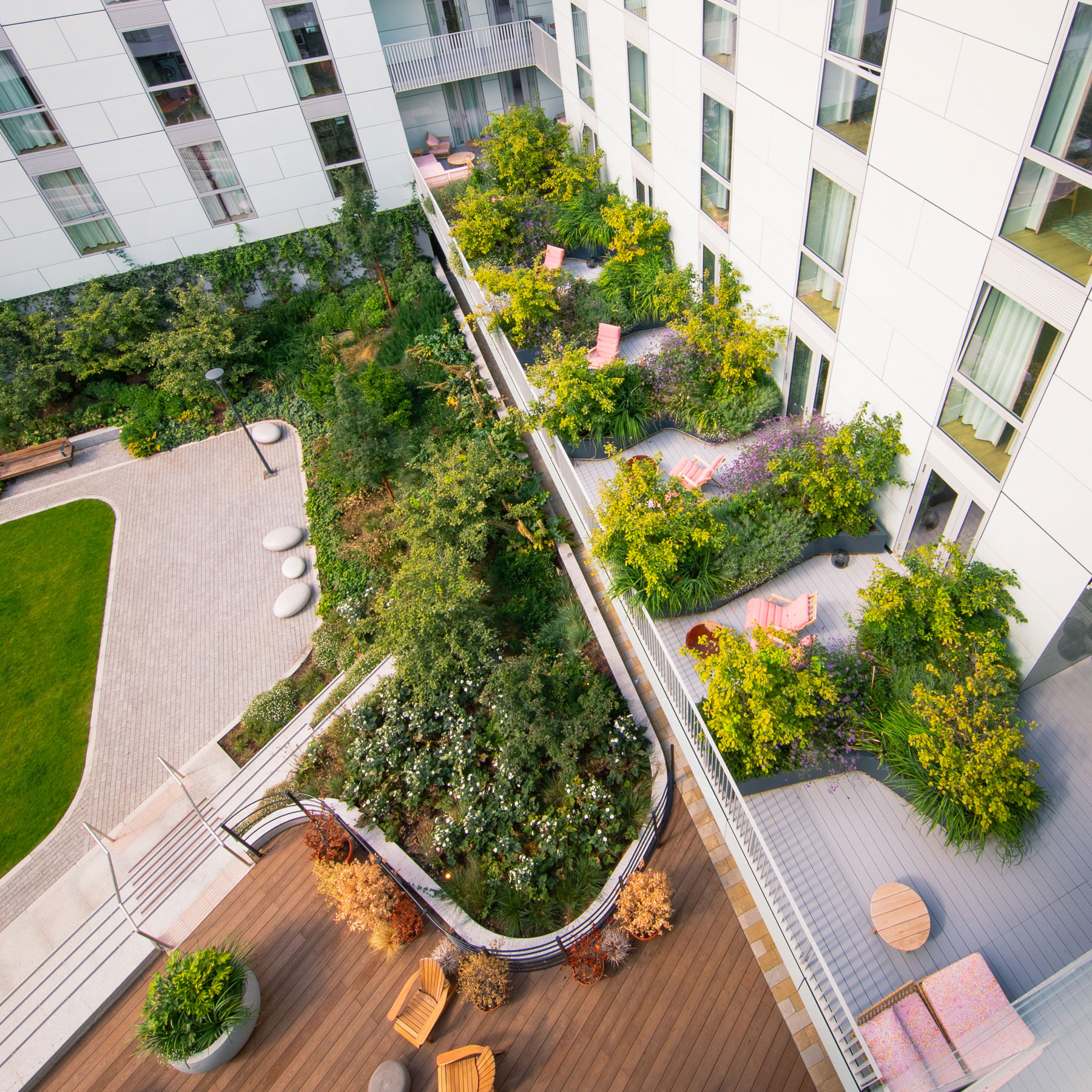 Further planters, by Europlanters, were manufactured and installed on the podium terrace, a series of gardens made from GRP in quirky curved shapes. These were planted with mixed planting to create a soft barrier in between the balconies of the more deluxe suites. Each of these terraces had a view to the leafy courtyard below.Beneath the hotel in the under-croft, is an array of granite effect Eyam planters which subdivide the space creating places to relax.

The large planting beds, sculptural bench planters and loungers were sprayed in RAL 7016, in a matt finish, to compliment the building, the timber used for the loungers and benches was sapele.
To create the ambient surroundings each sculptural planter had integrated LED Lighting. Originally the project was specified in metal, however, due to the LED recess required underneath the curved planters, special tooling would have had to be manufactured before production could proceed. GRP eventually was the most cost effective option, in fact the only option that would keep the project within budget.