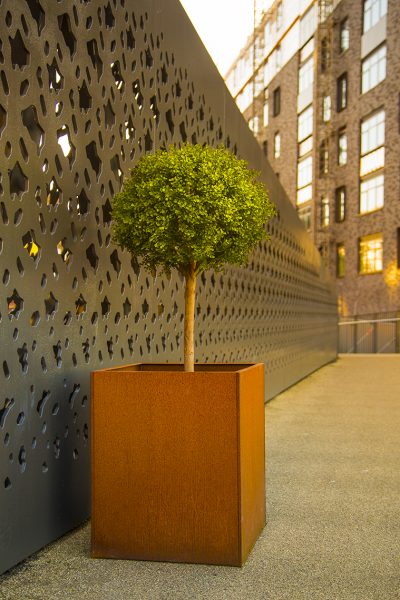 Corten Steel Planters add an urban and industrial twist to landscapes.
Corten Steel also know as weathering steel is widely used for cladding buildings and has been used for structures such as 'The Angel of the North' it is a steel alloy containing copper as well as Chromium and Nickle which oxidises giving a rusty appearance. This can be lock formed together to create beautiful Corten Steel Planters. This is ideal in public places where there is a high risk of vandalism as any scratches soon rust over again.
Please be aware that Corten Steel Planters will stain patios and clothing. Therefore we can offer a lacquer coating which will seal the surface.
There are some standard sizes available but bespoke Corten Steel Planters can be made for very little extra cost. 
Our Corten Steel Planters will need time to weather therefore please allow approximately 5 weeks for delivery.
CTC5
CTC6
CTC8
CTC9
CTC10
CTS
CTS1
CTS2
CTS3
CTS4
CTS5
CTS6
CTS7
CTS8
CTR2
CTR3
CTR5
CTR6
CTR7
CTR8
300 mm
400 mm
450 mm
500 mm
600 mm
300 mm
400 mm
400 mm
500 mm
600 mm
700 mm
800 mm
900 mm
1000 mm
750 mm
1000 mm
1000 mm
1200 mm
1000 mm
1000 mm
300 mm
400 mm
450 mm
500 mm
600 mm
300 mm
400 mm
400 mm
500 mm
600 mm
700 mm
800 mm
900 mm
1000 mm
200 mm
200 mm
300 mm
300 mm
400 mm
500 mm
900 mm
400 mm
450 mm
500 mm
600 mm
300 mm
400 mm
400 mm
500 mm
600 mm
700 mm
800 mm
900 mm
1000 mm
200 mm
200 mm
300 mm
300 mm
400 mm
500 mm