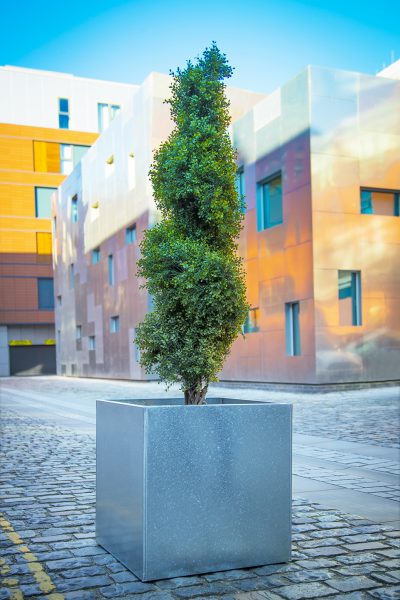 Galvanised Planters are a popular for exterior landscapes. They are a tough, resilient, urban looking, cheaper alternative to stainless steel.
Each of our Galvanised  Planters are lock formed together and made with drainage holes, therefore if you wish to use these indoors please ask for the planters to be sealed.
There are many standard sizes available, however for a little extra we can also make bespoke sizes.
Our Galvanised planters are available in any RAL colour matt, satin or gloss finishes.
GTV2
GTV3
GTV4
GC1
GC4
GC5
GC6
GC8
GC9
GC10
GS
GS1
GS2
GS3
GS4
GS5
GS6
GS7
GS8
GR2
GR3
GR5
GR6
GR7
GR8
350 mm
400 mm
600 mm
300 mm
300 mm
300 mm
400 mm
450 mm
500 mm
600 mm
300 mm
400 mm
400 mm
500 mm
600 mm
700 mm
800 mm
900 mm
1000 mm
750 mm
1000 mm
1000 mm
1200 mm
1000 mm
1000 mm
280 mm
280 mm
425 mm
300 mm
300 mm
300 mm
400 mm
450 mm
500 mm
600 mm
300 mm
400 mm
400 mm
500 mm
600 mm
700 mm
800 mm
900 mm
1000 mm
200 mm
200 mm
300 mm
300 mm
400 mm
500 mm
450 mm
800 mm
1450 mm
180 mm
300 mm
900 mm
400 mm
450 mm
500 mm
600 mm
300 mm
400 mm
400 mm
500 mm
600 mm
700 mm
800 mm
900 mm
1000 mm
200 mm
200 mm
300 mm
300 mm
400 mm
500 mm